Here is a short promo for the 2018 AQUILA UKULELE FESTIVAL, The Astra Theatre, Vicenza, Italy..
Here are some of the lovely things people have said about us:
"this joyous string band swing like the proverbial hairy clappers and are guaranteed to gladden the hearts of all but the most dedicated of miserable begrudgers. Vo do de o, vo doe doe de o, doe!"
http://www.frootsmag.com/

"Their mix of skiffle and 1930s jazz was unbelievable to watch. Uff plays and slaps that uke with no speed I've ever seen before and even though the technical skills are impressive, with their best three piece suits and hats, the trio are fun too." http://louderthanwar.com/hold-underneath-stars-festival-barnsley-live-review

" ..this album is truly as good as it gets. A genuinely impeccable performance" June 2021 UKE MAGAZINE review

http://worldofukes.co.uk/

"Have seen these guys twice now and both times they didn't just get a standing ovation, they got a standing-on-chairs ovation." Matt Warnes editor of UKE MAGAZINE http://worldofukes.co.uk/

"I TRY not to be too effusive when it comes to reviews, but this album is a rare gem! Thoughtful arrangements, impressive musicianship and great production combine to create a foot-tapping listening experience." https://kamuke.com

"The best British string trio ever! - The Ukulele Uff Trio are remarkable musicians who perform with breathtaking virtuosity and heart !" MARK THOMAS Bafta winning composer, conductor, orchestrator and multi instrumentalist. www.cues4u.com/

"INSTANT REPLAY...Ukulele Uff is the most fantastic uke player on the circuit today, no doubt about that. His partners-in-crime Lonesome Dave (guitar) and Brother Bill (steelguitar) are equally fine musicians - and equally fine guys. Their trio has just released a CD that sounds even better than it looks. In my opinion this is THE best ukulele related CD that has been released since the current ukulele boom started some eight years ago. I even dare to say it's one of the best ukulele related CDs that has EVER been released. Superb playing, great arrangements, sweet vocal harmonies...." UKULELEZAZA

"Well rehearsed and perfectly orchestrated this fourteen track album produces a wonderful blend of sound, skill and pure enjoyment that serves to simply make you smile ....If you're looking for some beautifully played traditional ukulele music festooned with flourishing fretboard fingering, you won't find anything better than this." UKE PLANET http://www.ukeplanet.co.uk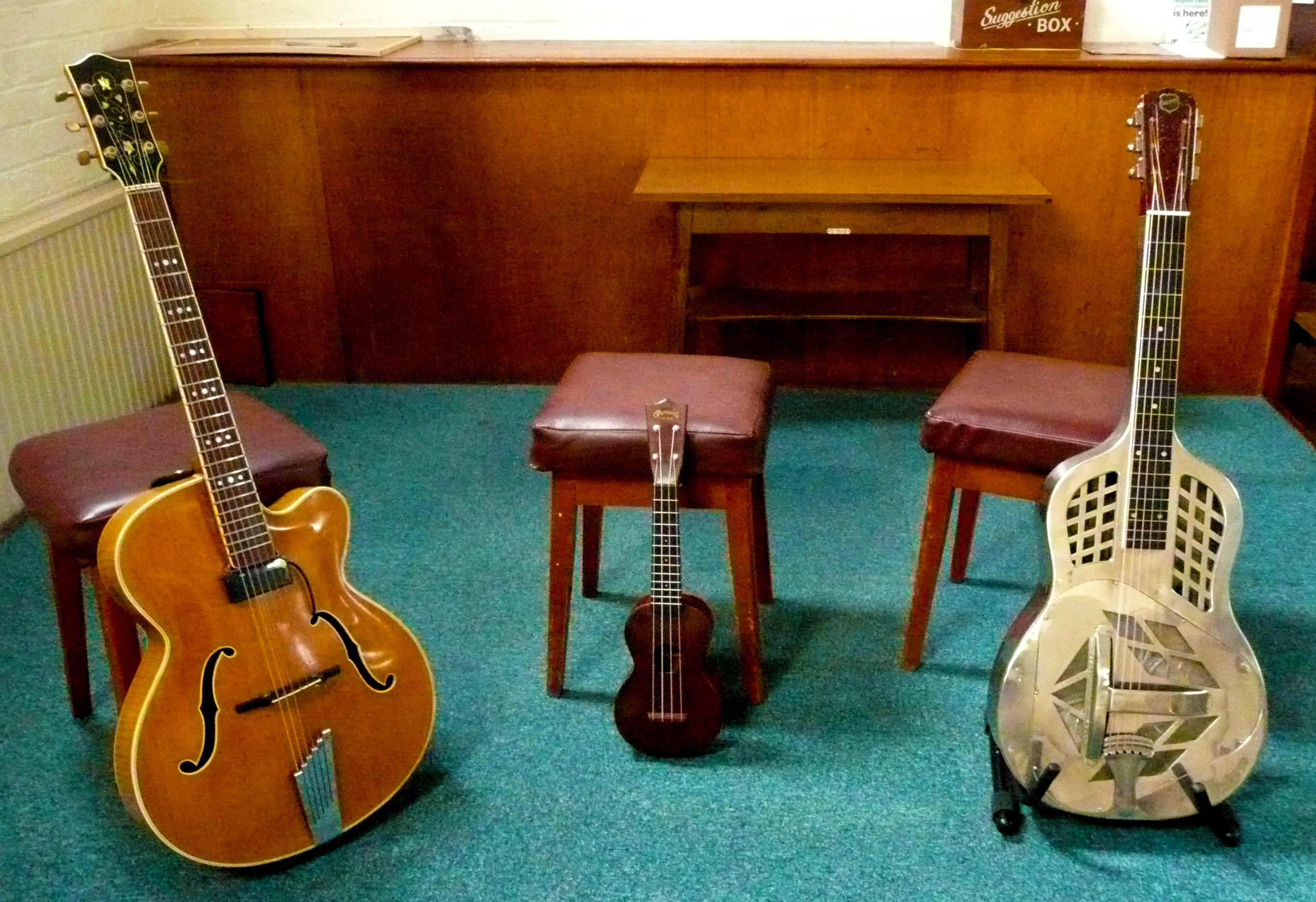 This is absolutely my new favorite group.... As I listen while I write this I'm absolutely giddy. I just want to jump up and shout, "Finally, someone gets it right."  What a treat to listen to. FLEA JUMPING https://fleajumping.com

"They have an authentic sound and they play the tunes properly and not in a gimmicky way. They are genuine." SAM BROWN ( Stop, Jools Holland, Pink Floyd) Uke Magazine interview issue 6.